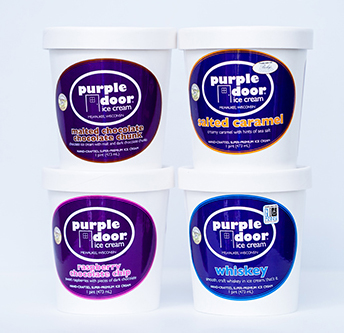 Purple Door pints packages are available for purchase online to send anywhere in the lower 48 states.
Choose from a variety of themed
pint packages or create your
own combination of 4 pints to send to family, friends, colleagues and more.
VISIT OUR ONLINE SHOP

Holiday Gift Concierge
Looking to send multiple pint packages this holiday season?
Purple Door is here to help you send
ice cream pints to clients, colleagues, friends, family and more. Our Holiday Gift Concierge service is available to you at no additional cost when you have 5 or more recipients.
Email catering@purpledooricecream.com or call 414-988-2521 for more information.

Peapod
Pints of Purple Door ice cream are now available in select Peapod delivery areas. Choose from Vanilla, Salted Caramel, Whiskey,
Raspberry Chocolate Chip, Malted Chocolate Chocolate Chunk, Mint Chip and Wisconsin Brandy Old Fashioned pints of ice cream.
Purple Door delivered to your door? Yes please!
www.peapod.com