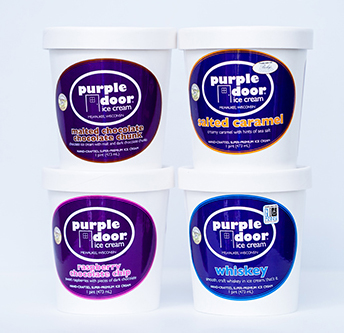 Head over to the Purple Door online store for ice cream pints gift cards, and t-shirts

Please note: Pint packs currently available for delivery in Wisconsin, Illinois, Iowa and Minnesota. Please allow 4-6 days to process.

Due to the nationwide dry ice shortage, we are unable to ship beyond these areas at this time. Please check back periodically, as we hope the timeliness of shipping is improved at that point and we can again ship ice cream elsewhere throughout the country.

Gift cards and t-shirts are still available for online purchase to ship country-wide.
Gift Concierge
Looking to send multiple pint packages in the Milwaukee-metro area as corporate gifts or to many friends and family?
Purple Door is here to help you send ice cream pints to clients, colleagues, friends, family and more. Our Gift Concierge service is available to you at no additional cost when you have 5 or more recipients.
Email catering@purpledooricecream.com or call 414-988-2521 for more information.